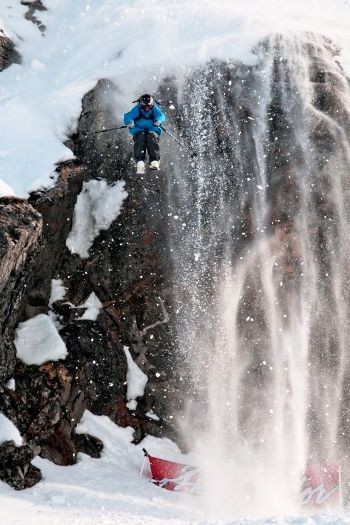 Neil Williman at final run "Ravinen" in 2012. Photo: Anna Öhlund
The competition has a limited starting field. Sign up no later than March 31 and get a discount! 
The 2023 entry fee is SEK 1450:- (pay no later than March 31) or SEK 1690:- (pay after March 31). The fee includes lift transportation to the venue during the days of competing and the famous 2 course banquet with a drink.
We use the "first come first served" principle. Secure your spot in the startingfield by paying the entry fee asap. To sign up please send an application to maria.lindfors(at)playground.se with the following information:
Name
Address and Country
Date of birth
Phone number
E-mail
Discipline (men alpine, women alpine, snowboard or telemark)
+40 Masters category. The category welcomes all riders from age 40 years. The classes (men alpine, women alpine, snowboard and telemark) that fill up with at least 4 riders will be executed under the exact same rules as the other classes.


The fee is refundable only:
a) upon presentation of a medical certificate from a contestant.
b) if the startingfield is fully booked.
c) if pandemic regulations from the Public Health Agency of Sweden forces the organizer to cancel the event.
Swedish competitors, please pay to:
Playground Event AB Swish nr: 1234075099
or
Playground Event AB bankgiro nr 5291-4199.
International competitors, bank details, please pay to:
Playground Event AB, Reenstiernagatan 3A, SE 981 39 Kiruna
Bank: Handelsbanken
Swift code: handsess
IBAN: SE28 6000 0000 0002 5914 3588
When we have recieved your personal information and entry fee, a confirmation will be sent to you by e-mail.
Voulonteers
Would you like to be one of the voulonteers in the event production of the SBMC?
Every year we have a number of voulonteers that help us out with different tasks during the days of competition. Please contact David Nilsson for further information:
David Nilsson
E-mail: david@nkpgcity.se